Hotel Restaurant Colibrì
The hotel is located on the hill of Lugano in the sunniest part of Switzerland, the Monte Brè. At the Colibrì, you will be able to enjoy a romantic and beautiful panorama on the lake, the town and the mountains. Our family has been taking care of its guests for many years in a cheerful and quiet atmosphere.
After taking your breakfast at the buffet or in your room, you might want to explore the woods or have a swim in our outdoor pool. The center of Lugano is reachable in 15 minutes by car, by bus or by funicular, and the city of Milan within an hour.
We can also provide you a meeting room for up to 30 persons.
Free Wi-Fi.
Short-term bookings: +41 91 971 42 42.
January and February closed.
Here you will find the information given by the authority related to the Covid-19 health emergency.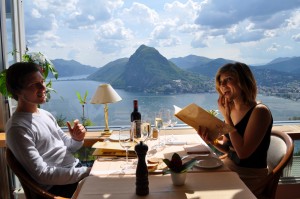 Photovoltaic and solar energy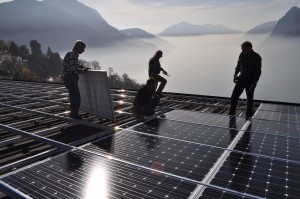 Thanks to the high solar exposure on the Monte Brè, we decided to install solar and photovoltaic collectors.
Our solar thermal system, which measures 40 m2, allows to capture solar energy, store it and use it for hot water supply.
The solar thermal panels convert solar radiation into thermal energy. Its transfer to the accumulator produces domestic hot water.
The photovoltaic panels, composed of photovoltaic cells, are able to convert solar energy into electrical energy (23.8 kWh) through the photovoltaic effect. The 180 m2 collectors are used as current generators. The average annual production is estimated at around 27'600 kWh.